After the year we've had, we could all do with a bit of fun! So says Linda Greenwall, international lecturer and world authority on tooth whitening. And we think most people would agree with her.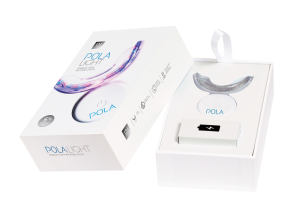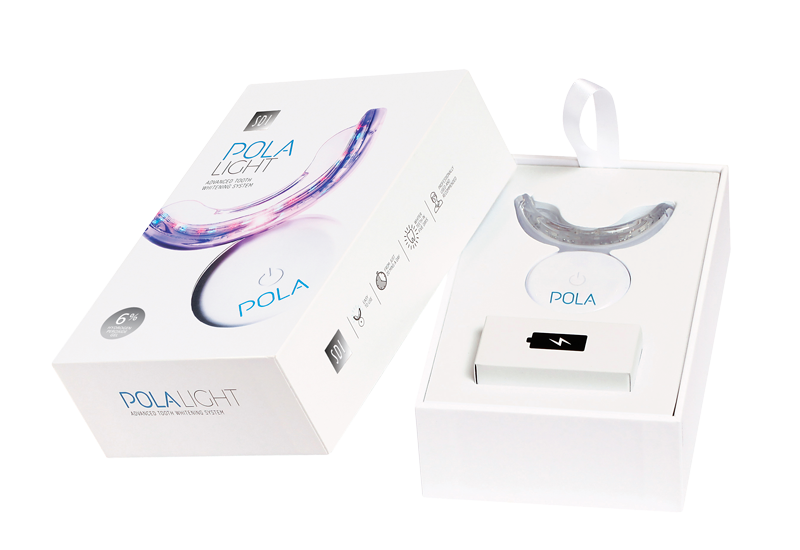 As we move our way out of lockdown, many of us could do with a lift, and that's exactly what our new whitening product, Pola Light can give. Pola Light is a take-home whitening kit that combines our award-winning Pola whitening formula with a unique, futuristic LED mouthpiece.
Lighten up!
If your patients are looking for a fast, convenient way of whitening their teeth – and something a bit different to what's currently on the professional tooth whitening market – then Pola Light is the answer.
Easy
The concept is a single mouthpiece fitted with upper and lower trays and a middle section for the patient to bite on. Attached to the mouthpiece is a handle which is used to insert and remove the mouthpiece and control the light. It is so simple and straightforward to use, and  takes only  15 minutes, twice a day. Patients should see a noticeable improvement within 5 days.
Convenient
Pola Light is delivered in a compact, custom-made box and contains everything your patient needs for 10 day   of whitening; the LED mouthpiece, a USB charging cord and 4 syringes of Pola Day 6% hydrogen peroxide gel. The mouthpiece is soft and comfortable to bite on and your patients can carry on life as normal whilst wearing the tray. It simply plugs into a USB port to charge.
Safe
Your patients will find Pola Light incredibly straightforward to use. In the initial consultation, you can show them how to syringe the gel gently into the trays and there's no danger of over-filling as the doses are clearly marked on the syringe. If patients do experience sensitivity, Pola Soothe will address this, which they can use either before or after a treatment, or even replacing a session if necessary.
What the experts say
According to Linda Greenwall, there is a real opportunity here for dentists to offer their patients a whitening product that is not only different but also injects a bit of fun – something we all need at the moment.
In a recent conversation, Linda outlined why she is so enthusiastic about Pola Light and how she thinks it can be a real business builder for UK dental practices. Watch her video for more insights into Pola Light, and also to hear from a happy patient who has tried the mouthpiece for themselves.
In her recent article, Linda also talked about how the way Pola Light looks and feels can be a real motivation for patients to take up whitening treatment and crucially to see it through: "It's a new, fun thing to do leading to more compliance and better results. It is ideal for whitening top-ups and for patients on the move or to take on holiday."
It is also wonderfully 'Instagrammable', which will appeal to your younger patients and make your whitening services very easy to market.
According to prosthodontist, Miles Cone, Pola Light is the ideal 'best-of-both-worlds' solution in current times, where patients want the speed of in-practice whitening but may not want to schedule an appointment for cosmetic treatment whilst the pandemic continues. "Pola Light is an advanced at-home whitening system formulated with high water content and a unique blend of soothers and conditioners that work together to reduce sensitivity during whitening treatment."
With one in-practice appointment to demonstrate how to safely use the kit, you can send your patients away with a fast, effective and fun whitening solution that will achieve the results they desire. At their 2-week review, you'll see just how good their compliance and Pola Light's results can be.
Pola Light is on offer this month, so why not give it a try by contacting your local SDI representative. See our full range of offers here.
Access Linda's podcast here.